You wanted this to be a special year for your Preschooler but…
2020. Do we need to say any more?
The calendar has now turned to 2021, but words like virtual and Zoom still fill our vocabulary. Drive thru (this) and any kind of (that) deliveries also make up our crazy days.
It's a new semester, and a chance to start fresh with your Preschooler...but honestly, you don't have the energy or brain cells to concoct a brand new master plan.
How can you give your Preschooler the attention they deserve right now, when you are struggling just to keep everyone fed and the right priorities juggled?
Let alone add Spanish to your day!
You tried a "virtual class" with your Preschooler. HA! Let's just say the Brady Bunch makes staying in those little squares look MUCH easier than it really is.
Also, why do children always have to go potty right when their scheduled lesson starts? It's like clockwork.
Don't worry. You're not the only one.
How would it feel to cross Preschool Mama guilt off your list for good?
If only you could have...
a child that thinks Preschool with Mom is the most fun thing ever
bilingual lessons at your fingertips for five weeks of amazing hands-on activities
all the supplies you need, gathered right there on your shelf
peace in your heart knowing that your Preschooler is thriving, and even learning a second language at such a young age.
We can easily change those "if only's" to realities!
Introducing...
Can't wait another second? Join now!
Is this an ALL Spanish Preschool Program?
Yes! Every minute of the video lessons are in Spanish. No translating, no Spanglish, no speaking 200 miles per hour...pure Spanish (fresh from Colombia 🇨🇴 ). hehe
Imagine a veteran Preschool teacher speaking slowly, singing silly, using visuals and lots of smiles and encouragement. Just what you would expect from a Spanish Immersion Preschool experience.
All of the printable resources are Spanish only as well.
Is this an ALL English Preschool Program?
Yes, but WAIT!! Don't bounce my friend.
Every minute of the English video lessons are in English, and every page of the printable resources are also in English.
The Only Truly Customizable Bilingual Preschool Experience
Manitos is like nothing you ever seen because the language is completely in your hands. You can choose 100% English, 100% Spanish, or any combination of the two.
If you have always wanted your child to experience Spanish at the Preschool level, now is your chance!
Here's how it works.
Enrollment is now open for our Winter Semester, and the focus is on the Snow and Mitten units of Manitos.
The Winter Semester runs for five weeks, from January 25 - February 28.
Although the activities were created with Preschool children in mind, I guarantee your 2-6 year olds will not be able to resist the fun. hehe
What's included in the Winter Semester of Manitos?
10 Virtual Preschool Video Lessons
(2 Lessons per Week, for Five Weeks)
Just press play and start learning! Miss Jana has two decades of experience working with Preschool and Kindergarten children, and knows what works. Songs and stories capture children's attention, and interactive games and lessons keep them engaged and moving. Each video rotates between Table Cam for a hands on activity, and Teacher Cam for some circle time fun.
Videos average 25 minutes, giving you time to take a breath and drink that cup of coffee.
The videos are "On-Demand" which means you can watch them whenever it is convenient for both you and your child. No more stressing out over losing minutes of precious classtime as your Zoom app slowly loads.
The best part is each video lesson is available in Spanish and English! In the Spanish videos, Miss Jana is wearing a black shirt. In the English videos, she is wearing a green shirt. This is to give children a visual to help them distinguish between the two languages.
2 Hands-on Activities for each Lesson
Preschool should be playful! Children are naturally curious and excited about the world. Multi-sensory activities, music, and movement are a must for Preschoolers. We try to maximize the fun for your child and minimize the work for you. We make the prep as easy as possible, and lay it out step by step in . You will know exactly what to print, and have a checklist to take shopping with you to make sure all of your supplies are ready.
What kind of "Hands-on activities" are we talking?
🎲 Roll a Snowman Math
🥶 Freeze! Letter Game
🧤 Mitten Sewing
❄️ Crystal Snowflakes
⛄ Melting Snowman Art
📏 Snowball Measurement (Marshmallows anyone? 😊 )
and much, much more!
Preguntas? Answers to our top questions..
"How much prep is there? Will I spend hours cutting out little pieces they only use ONE time?"


Of course not! That is a pet peeve of mine. As a mama of 5 (including twins) and homeschool director to 8 (including another set of twins with special needs), I'm a busy woman. hehe Our resources were designed to pack a big educational punch, yet be simple for you to prepare.
You will need to make some copies of the printables, but we always give the option of color or ink-saving black and white.
If your child has been learning at home, you probably have most of the supplies you will need.
"What if I miss a lesson?"


Two new lessons release each Friday, but you still have access to all the previous lessons. We will also give you an extra couple of days at the end to finish up any lessons you missed, or rewatch any favorites.
"Do I get to keep all the resources forever?" ​


Yes and no. Your access to the videos will expire at midnight on February 28. ​
However, the downloadable resources pictured below are yours to keep forever!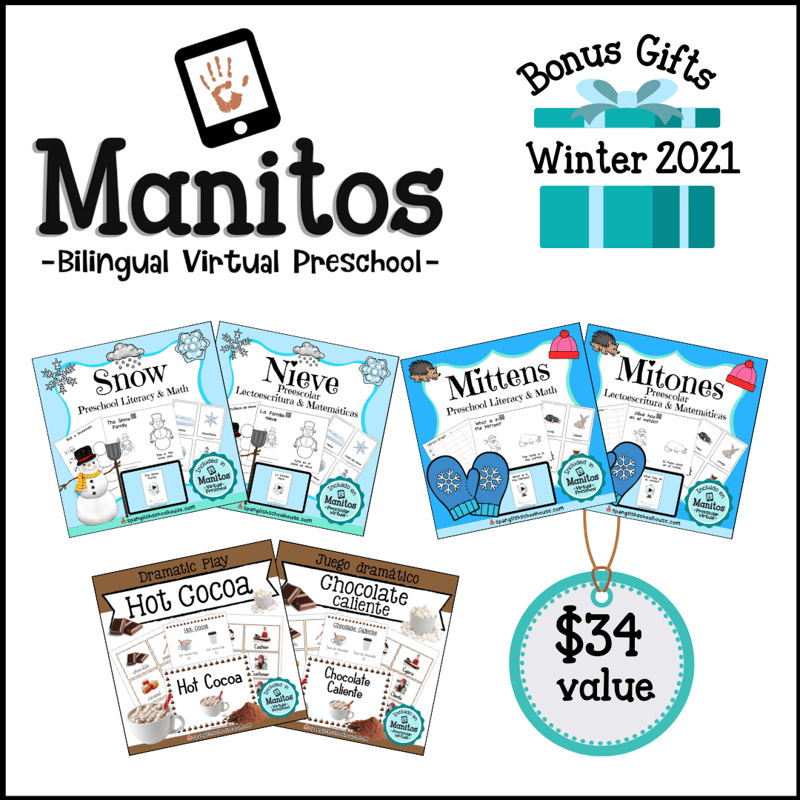 "Can I join anytime?"
Registration closes when classes start on January 25.
"If classes start on January 25, what happens when I sign up now?"
The first week's lesson is already waiting for you inside. You can start today...or take your time looking over things. If you want to start early, the videos are already up and ready.
More Questions??
Send an email directly to my inbox, and let's chat. Just write Jana at spanglishschoolhouse@gmail.com
Parents and children have been learning with Manitos since September, and loving it!
However, this is our first time packaging it into semester chunks. We are making it available at a big discount, so we can get your feedback to make this semester system perfect.
The best part...you will lock in your special price by joining in this first go round. Wooohoooo!!
Registration closes soon, and we would love to see you inside!