Do you have children that refuse to speak Spanish? 🤐 Try getting them to sing instead. hehe
This bundle of children's songs has been parent-tested and child-approved to have them singing and learning along...without the fight.
These three packs will be available separately in our SSH Shop, but you save over 25% with this bundle!
What's included in the Bilingual Song Bundle?
1) Traditional Spanish Song Book - $5
This pack features 18 Traditional Spanish Songs like "Arroz con leche, De colores, and Los Pollitos."


Traditional Songs Included:
Arroz con leche
Caballito Blanco
Debajo un botón
De Colores
El Chocolate
Estaba el señor Don Gato
La cucaracha
La Granja
La lechuza
La vaca Lola
Lindo pescadito
Los Pollitos
Naranja Dulce
Pimpón
Sana que sana
Sol Solecito
Tío Mario
Yo tengo una casita

2) Children's Song Book in English - $6
This pack features 26 children's songs in English. These are classics like "Wheels on the Bus, Old MacDonald, and Head, Shoulders, Knees, and Toes."

English Children's Songs included are:

Apples and Bananas
Bingo
Eeney, Meeney Miney Moe
Finger Family
Five Green and Speckled Frogs
Five Little Ducks
Five Little Ladybugs
Five Little Monkeys
Head, Shoulders, Knees, and Toes
Hey, Diddle, Diddle
Hickory, Dickory, Dock
If You're Happy and You Know It
I Have a Pet
Mary Had a Little Lamb
Old MacDonald
One Elephant Went Out to Play
Open Shut Them
Put on Your Shoes
Rain, Rain, Go Away
Red Light, Green Light
Slippery Fish
This is the Way
This Little Piggy
The Muffin Man
The Wheels on the Bus
Twinkle, Twinkle, Little Star



3) Children's Song Book in Spanish - $6
This pack features the same songs in the English pack...but they are sung in Spanish of course!
Spanish Children's Songs included are:
Abre y cierra
Bingo
Cabeza, hombros, rodillas, y pies
Cinco monitos
Cinco ranitas
Cinco patitos
De esta forma
De tin Marin de do pingüe
El pastelero
El viejo MacDonald
Este cerdito
Estrellita ¿dónde estás?
Hickory Dickory Dock
La familia dedo
Las cinco mariquitas
Las ruedas del autobús
Lluvia, lluvia, vete ya
María tiene un corderito
Manzanas y bananas
Ponte tus zapatos
Rojo alto, verde avanza
Si estás feliz
Tengo una mascota
Tirintintín, el gato y el violín
Una sardina
Un elefante se balanceaba

Are these Song Books Downloadable?
Yes! You will get a downloadable pdf for each song book including:
Covers - Spanish and English, Color and Black/White verisons
Color version of all song pages
Black/white version of all song pages
See a sample of all three in the image below...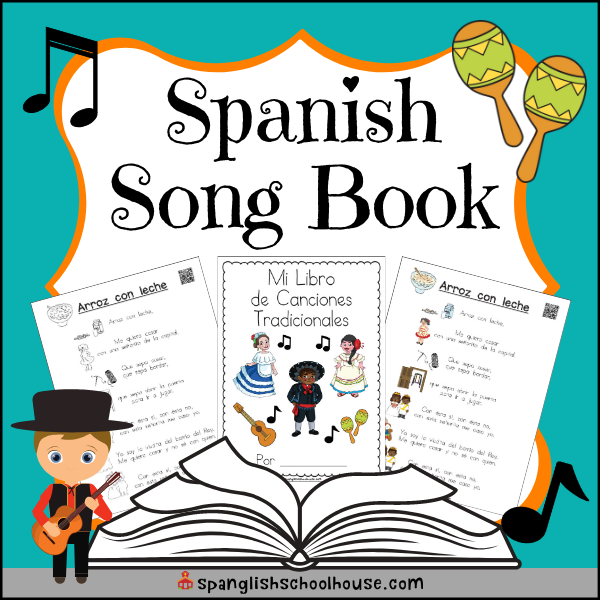 Choose the version that works best for you! Pick and choose songs that go along with your themes, or print the whole book and learn them all!
What if I don't know the tune to the songs?
That's what the QR codes are for! When scanned with any QR Code reader, they connect to a YouTube video created with SafeShare. This means children are not able to see or access any recommended videos, or any other links in YouTube…ONLY the song chosen. This is one of the only ways I have found to truly watch YouTube content in a "safe" way.
Congratulations, that means you already have access to this bundle! If you are signed into the VIP Area, the bundle should show up in your Product Area.
14 of the songs are included in the Deluxe Bundle. If you would like to purchase the rest of the songs with this bundle, send an email to spanglishschoolhouse@gmail.com and we will give you a discount coupon code.