The Dramatic Play section includes printable packs that encourage the feeling of pretending in the "real world." Resources are created with real photos instead of clip art, making these packs perfect for language learners of any age.
Here are the resources inside the Dramatic Play section of Arcoiris right now. Currently a $40 value!
For more details on exactly what is included in each pack, or to purchase the resources separately in our SSH Shop, click on the links below.
Pizzeria ~ La pizzería
Vet Clinic ~ Clinica Veterinaria
Birthday Party ~ Fiesta de cumpleaños
Popsicle Cart ~ Carro de paletas
However, inside Arcoiris you get both languages AND a bonus bilingual version whenever available!
Future dramatic play themes for Arcoiris include:
Taco Stand
Farm
Dinosaur Dig
Pumpkin Patch
Hot Cocoa Stand
Florist
Aquarium
Cookie Shop

Want to enter our Dramatic Play Giveaway #6?
It's simple! Just let us know which resource you would like to win. "This" or "That"?
(If the image to enter your info does not show below, please make sure to "Sign in" at the top right corner of the screen.)
Winner will receive their choice of ONE resource. Either the Spanish Popsicle Cart or the Spanish Pizzeria.
This Dramatic Play Giveaway #6 ends July 31, 2020, at 11:59 p.m CST. Winner will be announced by email on August 1. 🎁
If you have already purchased this item through our SSH Shop between July 20 and August 1, you will receive your money back. 🥳
A Special Gift for you...
Grab a sample menu from our Popsicle Stand set. Just add popsicles, and you're ready to go! hehe
English, Spanish, and Bilingual (pictured below) are included.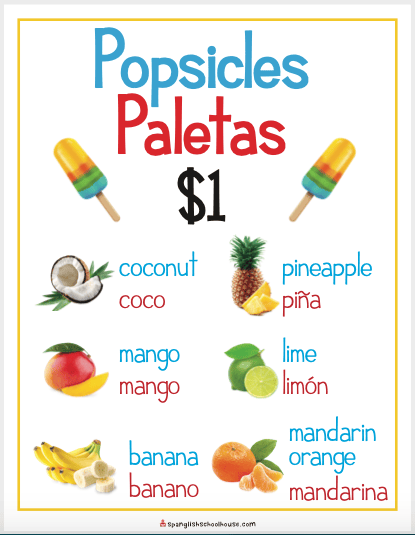 Grab your own sample of the Dramatic Play labels in English or Spanish in the Downloads section below.
---
Downloads